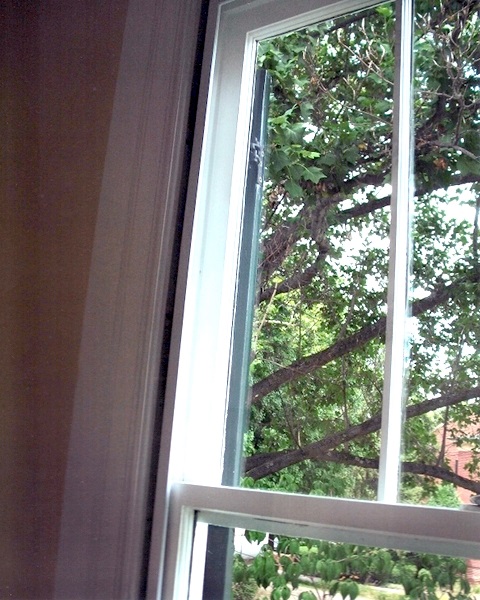 WE BOUGHT THESE INSIDE STORM WINDOWS FOR OUR HOME, THE BEST INVESTMENT WE'VE EVER MADE IN SAVING MONEY ON ENERGY COSTS NOT TO MENTION THE ADDITIONAL COMFORT WE ENJOY. NICE COMPANT TO DEAL WITH TOO. I THINK OUR FINAL COST PER WINDOW WAS ABOUT $60 BUCKS PER WINDOW.
Larry Lawrence – Jan 18, 2012
We actually purchased these interior storm windows from this same company. 2 years ago we bought 11 for our home, then we bought 7 more for the house 6 months later. This year I bought them for my shop and office. You gotta love these things, wished I would have known about them 20 years ago. No more drafts or moving furniture away from near the windows in the winter, I'm thinking the payback on the double glazed windows is gonna be less than 3 years.
Tom --
December 13, 2012
We did this to our windows in Beverly, MA. Lovin' it.
Katherine – December 14, 2012
Double glazed doors and windows have many benefits when applied to homes and businesses, and since they come in many different styles and designs, should be considered when replacing older versions of doors and windows.
DGS - February 23, 2013
Eugene, I was cleaning my inbox and came across this email and wanted to let you know that I am very satisfied with my double glazed interior windows from your company. They were easy to put in and did the job! I will recommend your double glazed interior storms to all of my co-workers, friends and family. Thank you!
Pat Kleman -March 2013
Energy Wise-Our home is on the National Historic Registry and the double glazed interior windows from you proved to be the perfect solution to our window issues. Easy to install, affordably priced, and they slashed our utility costs.
Dr. Tom and Connie Vavpol Jan. 07, 2013


Eugene we installed all 27 of the double glazed interior storm windows, thanks again for taking care of the one damaged in shipping. You've got a nice product.



Warren K. - Boston, MA - January 2014


I received my order of double glazed interior storm windows, thanks for insisting I spend a little time giving you close to exact measurements, I installed them and everyone of them fit perfectly. They've only been installed for 3 days but I can really tell a difference in the rooms comfort and I don't hear the furnace as much.



James M. - Elyria Ohio - Feb. 16, 2014




We have all the new interior storms put in, they are much nicer than I thought they'd be, we are very pleased. Once we put them in we could hear less traffic noise too. You've got quite a product there.



Paul L. - Buffalo, NY - March 2, 2014


Our new interior storms have been in the house for 2 full months, we heat with propane and these things saved our butt this year due to the price of propane. Love these windows.

Jerry L. - Wausau, WI - March 12 2014

I just want to let you know that your double glazed interior storm windows arrived here safely and are now installed happily in the Pickering House a National Landmark. I'll send you some photos ASAP. They're working great and we can already feel the difference. I'll have another order for you shortly. I will also talk them up around the hood. Hope you have a great Thanksgiving !
All the best from the Pickering Foundation and me, Tim - December 2014
Good morning Eugene,
Deb and I wanted to send you an email just to express how thankful we are that we found your company.
When we bought this old building (1884) we had no idea how we could ever make 13, 9 foot original windows more efficient without jeopardizing the historicalness. We were a little skeptical at first , which is the reason we tried just one room. Holy cow what a mistake! We could tell such a difference we could not get the others fast enough. So thank you for rushing those along for us as well. To think we used to actually got snow in our home when it was windy is crazy. Now we don't even get so much as a small draft. We have noticed also that even dusting has decreased significantly. The savings on our utility bill is far beyond what we ever hoped for. These are things I am sure you already know about your windows but I just wanted to reaffirm them to you. There will never be a guest that stays at our bed and breakfast who won't know how great your product is.
Thank you again,
John and Deb Sherman - B&B Proprietors in Wisconsin - December 22, 2014

Hi Energy Wise Mfg.
We received the 23 double glazed interior storm windows last week, they all fit perfectly. It only took us 30 minutes to install them all. They look great once installed, so nice and clear. We now have every window in the entire house fitted with your double glazed interior storms. We are so thankful you manufacture these as double glazed, what a difference compared to single glazed. My only regret is that we should have ordered all 33 of them a year ago rather getting 10 the first year and then another 23 the other day. Every room is now warmer, quieter and much more comfortable than before, what a difference these things make. You'll be hearing from our friends and neighbors, we tell and show everyone these remarkable interior storm windows.
Thanks Again,
Dinotto Farriarro - NYC - December 31, 2014
Eugene,
Hope you had a good holiday season. Please look at the attached list of 31 windows and get back to me with a quote when you have a moment. the rooms that have the double glazed interior storms on that we got from you last year are much warmer and quieter. If the price is nearly the same as last years order let's get this done as soon as possible. Thanks,
Jon Gilley - January 02, 2015


Hello Eugene,
The 1st set we ordered of your windows are working great, we are so impressed with the quality and what they have done for us this winter. Thank you and Happy Holidays!

Barbara Elmore - January 03, 2015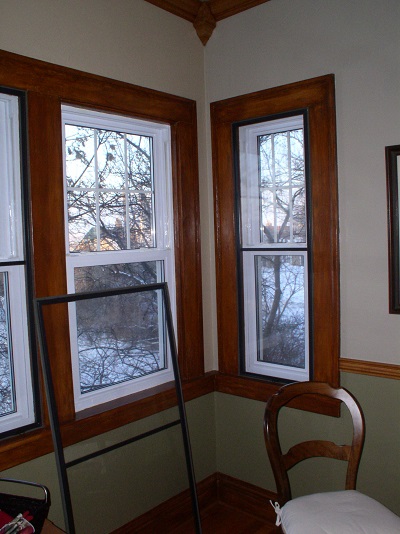 Recently purchased a home built in 1919 sitting on a hill in Northern Wyoming. The home has double-hung windows, you you'd think we would not need storm windows. They all leak air, so either poor grade, poor installation, who knows. The house sits on the edge of a hil, which makes the north side of the house impossible to reach, even the main floor dining room windows.
We wanted storm windows that we could handle and install yearly. Spoke with two local window contractors and their solution was to install new double-hung windows!
I Googled interior storms and found Energy Wise Mfg.
Eugene Mueller of Energy Wise Mfg., has provided us with an option that contractors said would not work. His prompt response to any question in truly appreciated. We've received two shipments of windows, each as described and in a timely manner. We will use the packing and cartons to store the windows in during non winter months.
We could tell immediaely, after installing the dining room interior secondary storm windows, that the room was warmer. They fit like a glove, sealing the cold winter air out and so easy to install.

B Elmore April 2015


Hi Eugene,
Just thought I would send you a note and tell you thank you for the windows. They are so much nicer than I thought they would be. They fit perfect and stop any draft from entering and were so easy to install. I will highly recommend your company to anyone that may need interior storm windows.
Thanks again,
​
Charles and Tina
​
​
Edwards, North Carolina JANUARY 5, 2016


Hi Eugene:
Glad we got to catch up today! Here are the specs (exact measurements) for a 3 more rooms /21 Windows at the Pickering House. Your original interior storm windows have really helped to reduce drafts and diminish our energy bills. They've also reduced traffic noise significantly. You may recall we purchased 20 some of your interior storms over a year ago for our home which is of National historical significance, built in 1651 here in Salem. We'll look forward to receiving your price quote and are looking forward to installing more of your double glazed interior storm windows.Thank You

Tim Jenkins
January 2016


Eugene,
​​

Received

our order on

1/19/16 and installed. What a wonderful product! Even

m

y wife was impressed! The dining room is now the same temp as the rest of th

e

house! Thanks so much!
Dennis – Ames, Iowa
- January 2016




Hi EugeneI rec'd my windows today and it is in.​ The 1" X 1" frames you recommended are very nice, I'm happy we went that route. My neighbor's A/C is incredibly loud and the windows did deaden that noise considerably. I am happy and so appreciate the time you gave me in ordering and your patience with me. I will be a repeat customer as soon as it is in the budget. Thnk u so much




Jill Cranle
y - ​Jacksonville Fl.​

-
March 2016