Energy Wise Mfg was founded by Eugene Mueller. Eugene spent most of his career heavily involved in the power generation industry and many other industrial settings. As a result of this experience he was constantly challenged with controlling heat loss and heat gain utilizing the most advanced insulation technologies. He took the knowledge of these materials and adapted them to create highly cost effective solutions for residential, commercial and industrial building owners.

What's unique about Energy Wise?
Energy Wise Manufacturing produces the Double Glazed Interior Storm WIndows that affords residential and commercial owners a truly smart and affordable solution to various window issues, including: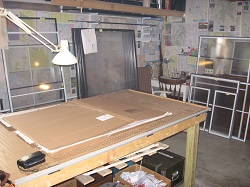 Drafts
Condensation
Cold Areas Near Windows
Noise
Dust
Screening that provides a "wide-open" look, featuring single screen panels as large as 12' by 20'.
No matter if it's interior storm windows or a screening project, the experienced professionals at Energy Wise Manufacturing will work with you to find the perfect solution to your needs.
Perforated reflective materials insure the integrity of your building's ability to "breathe"
Patented "insider" window products are a long-term alternative to expensive window replacement
Analysis of your specific challenge and custom designed solutions
Highly effective results that save real $$$
Personal service from a locally owned and trusted organization